Classic and Competition Car 152 May 2023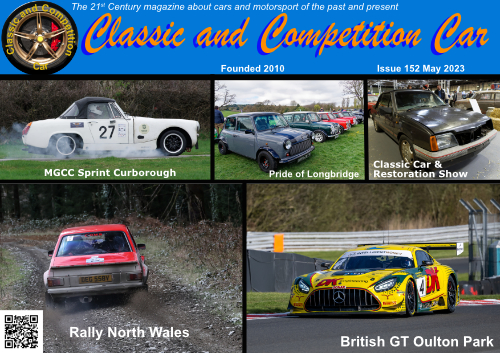 The magazine is designed to work on any computer, tablet or mobile phone screen in the landscape layout.
Click on the link or the magazine image to open the magazine. You can also read the magazine on the ISSUU platform by clicking on the link to the right.
To download the magazine as a PDF file, click on the Cover image.
Alternative Download from here
There is plenty of GT action in this issue, with British GT from Oulton park and British Endurance Championship from Silverstone. We also have lots of Classic Touring car Racing Club action as well from Silverstone. We also have a report from the final round of the 2022/2023 Tasman Revival Cup in New Zealand. For Rally  fans we have a report from Rally North Wales 2023.
We have hill climb action from Prescott and more Speed action from the MG Car Club Sprint at Curborough.
Vintage fans will enjoy the VSCC Measham Night rally action. American car fans should look at our report from the April meeting of the Black Country Cruisers. The Pride of Longbridge was back to normal in Cofton Park with some of Britains finest cars on show. Classic Car enthusiasts will enjoy our report from the Classic Car and Restoration Show at the NEC. Finally we have a report from the Easter Bunny AutoSol, which had 3 Ferrari sports cars in action. Plus our regular News section.
We hope you enjoy this issue and remember all our back issues are available to read online from our Previous issues page.
Please feel free to email any comments to classicandcompetitioncar@hotmail.com
If you want to be emailed each month when the next issue goes online click here to be added to our mailing list. This information will never be given to anyone else.
If you wish to unsubscribe and be removed from our free email list click here